Insight Consumer Education System
Finding quality childcare is generally more like a chore than a positive experience.
To solve this dilemma, we reached out to several industry professionals to better understand what sort of tool our users needed and deserved. As a result, Insight's Consumer Education platform was created from the ground up with ease-of-use and quality data as the foundation.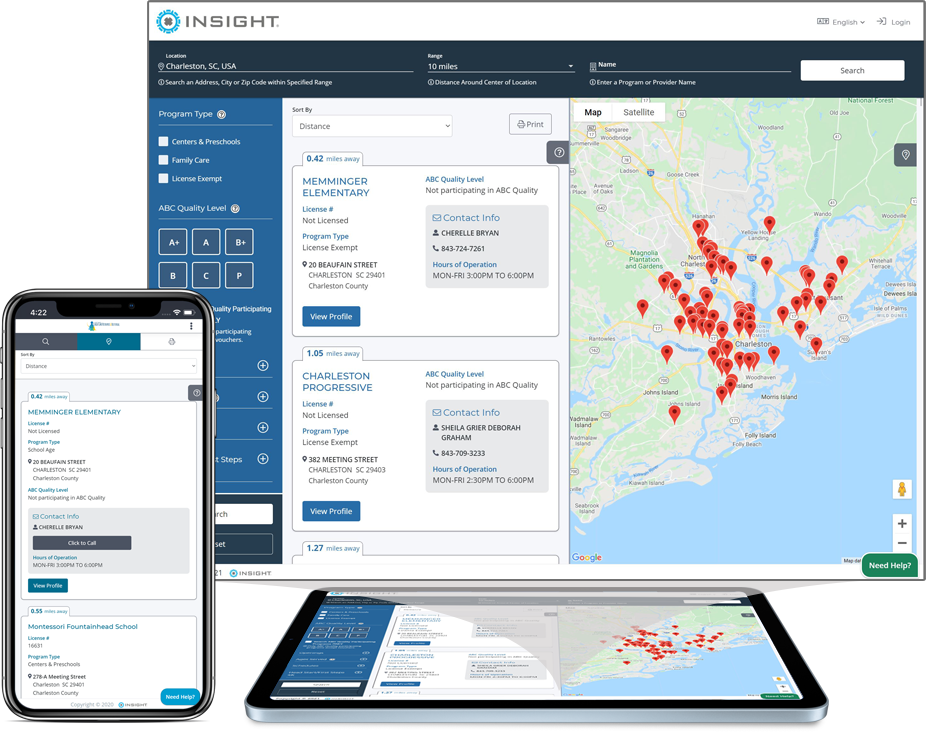 Intuitive Program Search Tool
The Insight Consumer Education system provides a parent/guardian centric search tool that makes finding quality childcare within your area easy.
Supports:
Program search within the desired radius of an address or zip code
Displaying of program's distance from searched by address
Mobile-first design creating an intuitive search experience on just about any device
Live chat with real Referral Specialists
Submission of referral requests 24/7
Side-by-side program comparison
Accesses to more detailed program profiles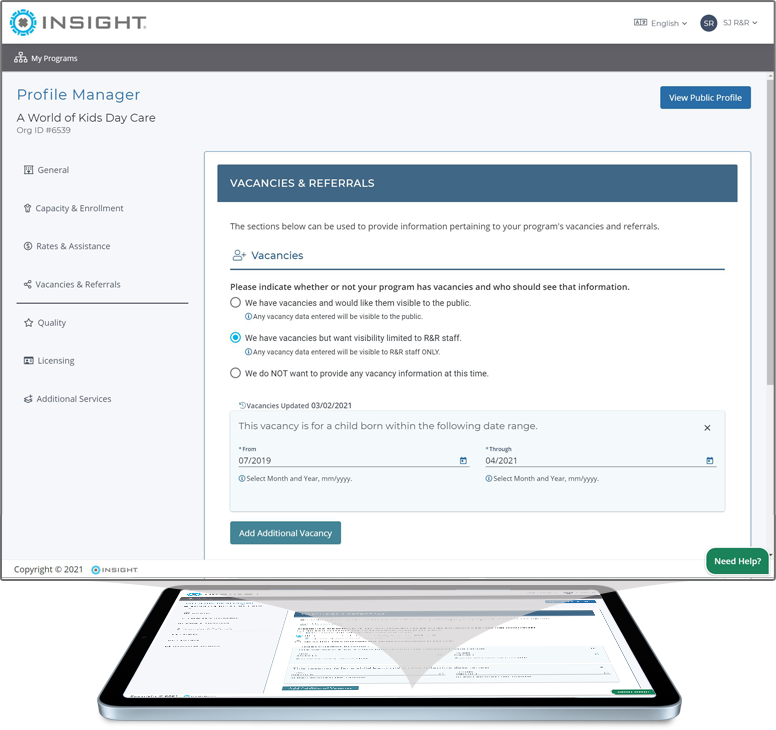 Configurable Program Data Fields
A common drawback to many Consumer Education systems is the difference in data needing to be collected and how it is collected. Which often creates a reporting nightmare.
Insight created an intuitive and flexible data collection structure that allows you to configure the data you need and how you want to collect it.
Supports:
Program rate information by age and schedule
Detailed or general vacancy information, who sees it, and when it was last updated
Enrollment schedules, age groups, and more
Additional services like transportation, health screenings, and meals served
Website addresses, social media, philosophy statements, and other resources speaking toward the culture or the program and if it is a fit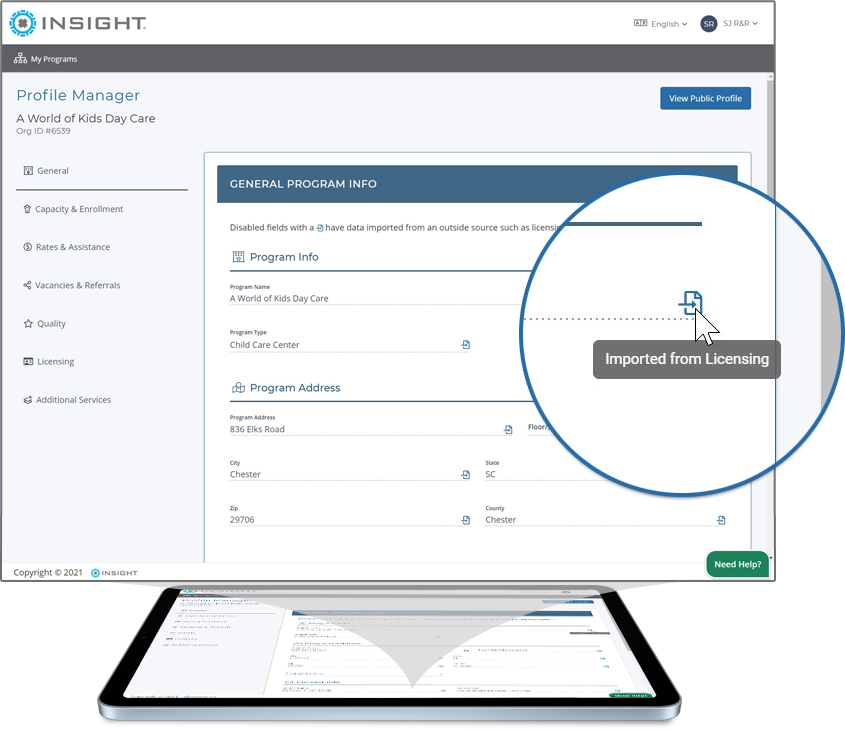 Flexible Data Exchanges & System Integration
Reduce errors and increase satisfaction by not asking programs to enter the same data in two places.
Supports:
State or local registry systems
State licensing system
QRIS system
And more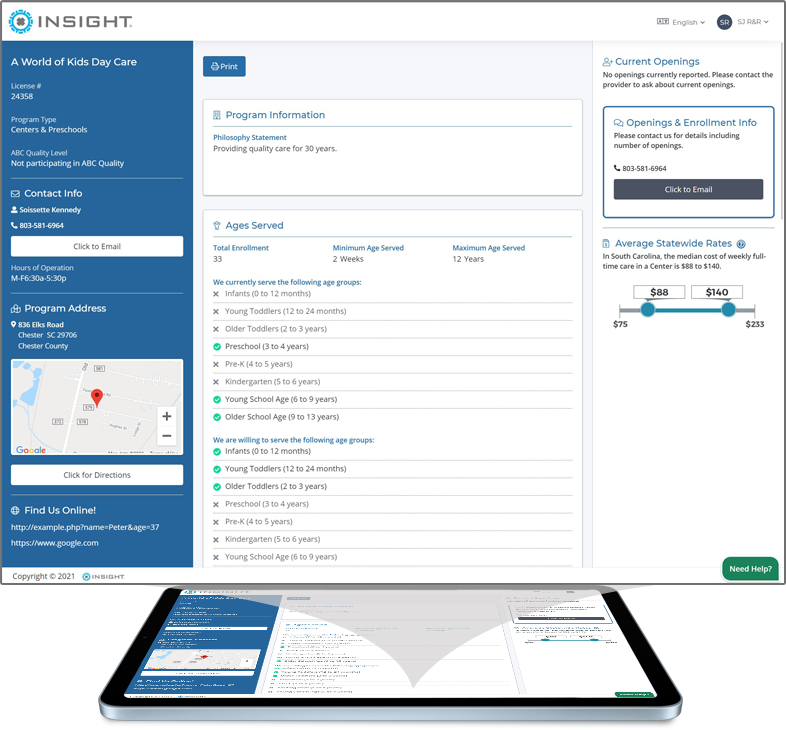 Concise Program Managed Profiles
Present an abundance of program-managed data that is concise and accurate. Insight's data collection accessible display easily helps distinguish one program from another.
Supports:
Well organized and configurable data elements
Mobile friendly and accessible interface
Side-by-side comparisons with other selected programs
Sharing and printing of profiles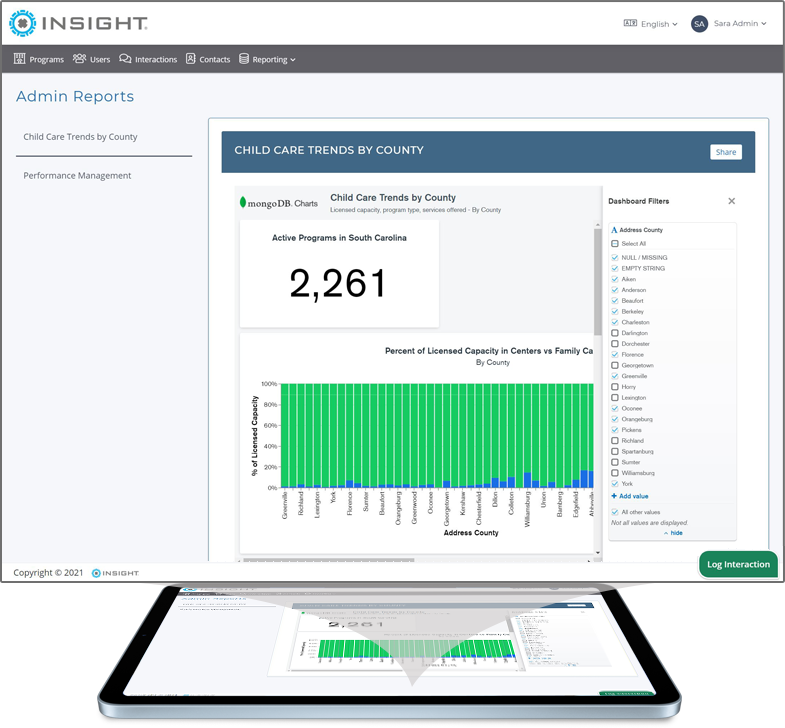 Consolidated Reporting
Insight's flexible data structure makes reporting a breeze. By incorporating real-time business intelligence, making data-driven decisions becomes much easier.
Supports:
Simple and intuitive report displays and dashboards
Configurable reports specific to your reporting needs
Shareable report views so funders can view data
Flexible and extendable reporting to support your data needs as you grow
Do more with Insight!
Are you interested in how Insight can help your system or initiatives? Drop us an email. We love talking with fellow industry professionals.
Tell Me More About Insight!